Discover more from Liv Letter
I miss writing a newsletter about culture so here we are. Expect stuff about, I don't know, Ariana's bad tattoos and straight men wearing harnesses and my burgeoning love of Soylent.
Jake Gyllenhaal is wearing a chain now
Jake Gyllenhaal is wearing a chain now.
Jake Gyllenhaal is wearing a chain now. Jake Gyllenhaal is wearing a chain while he promotes Spider-Man: Far From Home. I don't know what the movie is about but I think it's about Spider-Man going on a school trip with Zendaya and then… chaos? Jake Gyllenhaal plays someone who I think is named Mysterio. Perhaps I know more about this movie than I thought I did. 
Back to the chain. 
Jake Gyllenhaal is wearing this chain everywhere. He wore it on BBC Radio 1 while talking about how much he loves Sean Paul. When asked what his favorite Sean Paul song was he said it was "Cheap Thrills," which is technically a Sia song and makes me question how much he actually likes Sean Paul. It's ok to just like the idea of Sean Paul. We all know "Temperature" is fun. Now I'm just being a "name three albums" bro. Who am I to question Jake Gyllenhaal, a man bold enough to become obsessed with wearing a gold chain at 38 years old.
The chain made an appearance on the red carpet. Blue suit, a green t-shirt so dark that I thought was black for a second, and the chain. I saw a picture on Twitter where he's wearing the exact same outfit except the suit is black (maybe charcoal) and the t-shirt is blue.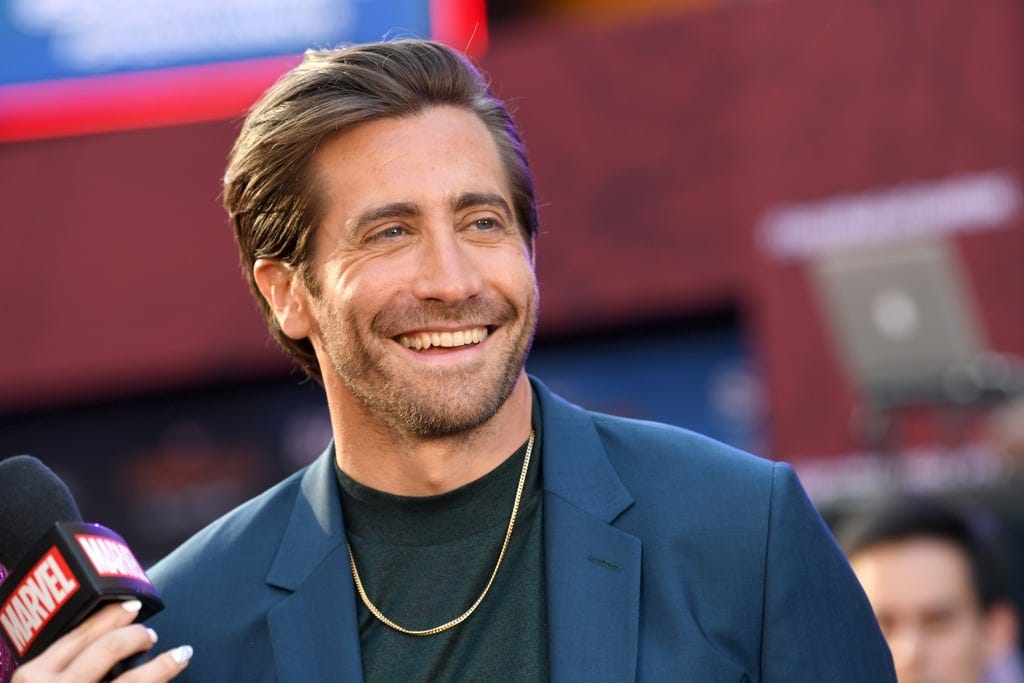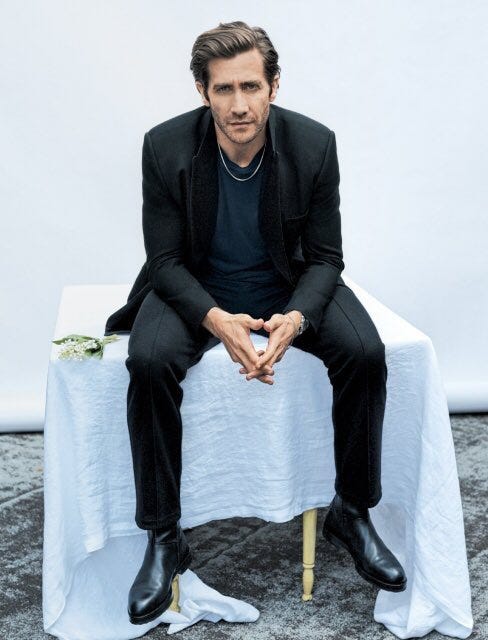 Jake Gyllenhaal wore the chain on The Graham Norton Show, where he was doing more press with Tom Holland. Once again he wore it with a t-shirt and a suit. Tom Hanks and Gwyneth Paltrow were also there, which is why The Graham Norton Show is the only good talk show.
How lucky for Tom Hanks, to get to see the chain in real life. Gwyneth Paltrow has seen lots of men wearing chains, I'm sure. She was married to Coldplay and has spent a lot of time with Robert Downey Jr. I just googled to see if Tom Hanks has ever worn a chain. Allegedly the answer is no, but that seems untrue. Big era Hanks certainly had chain energy.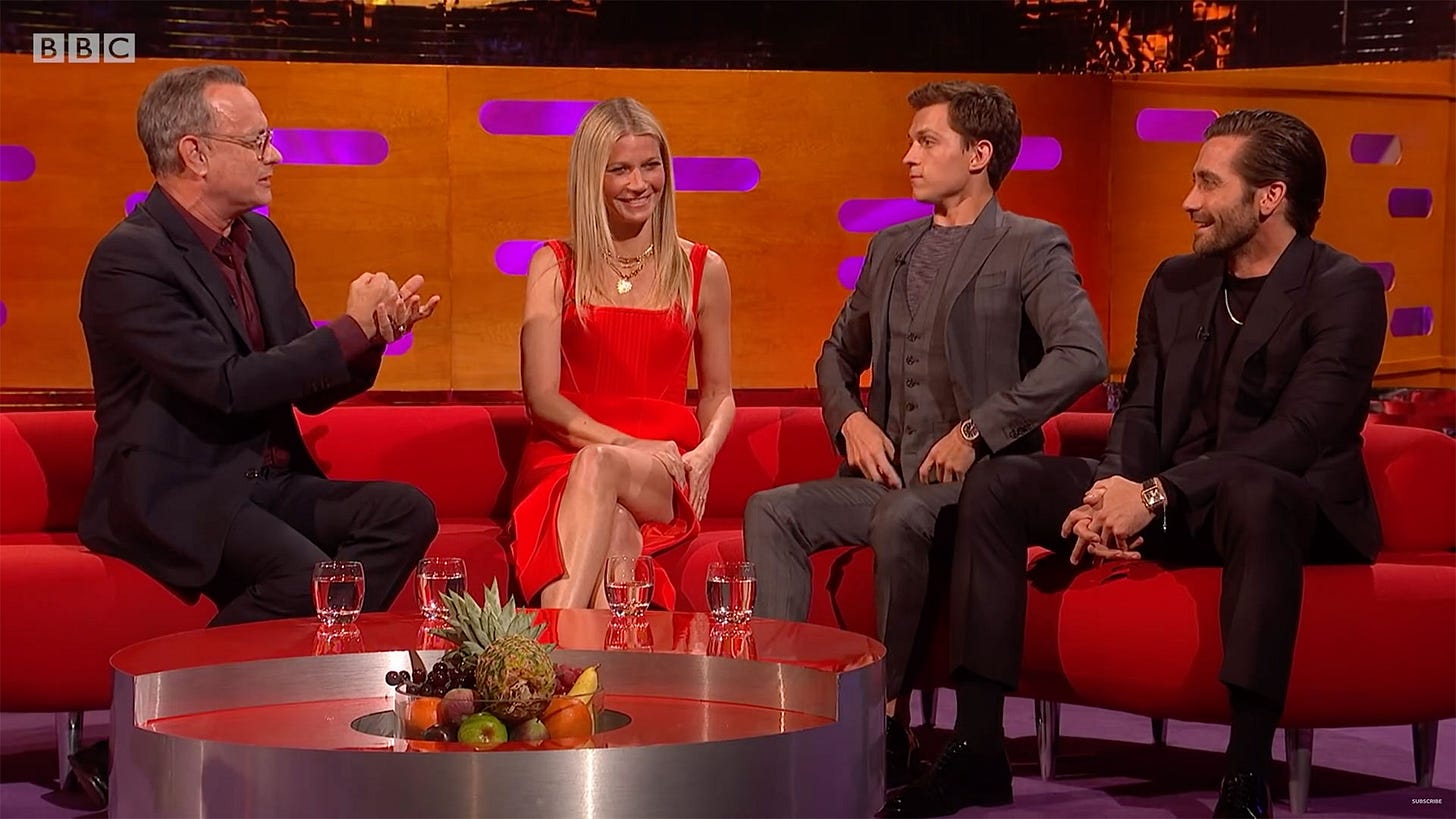 Jake Gyllenhaal also wore the chain while promoting the play Sea Wall/A Life with Tom Sturridge, which is going up on Broadway next month. Notably, Tom Sturridge was also wearing a chain. Who chained first? The play is less of a Play and more like two long monologues from two different writers, each of which feature a man talking about death. It was a New York Times Critic's Pick when it was at the Public, but I generally don't trust the Times theatre critics, so who knows. Per a press photo, Jake is not wearing the chain onstage. A lot can change in the Off-Broadway to Broadway transfer though. Tickets for Sea Wall/A Life are as much as $339. I would guess that the chain costs several Sea Wall/A Life orchestra seats (center, not left, obviously). 
Page Six reported today that some people are "disgusted" by the chain. Outrageous. To be… disgusted? By what has clearly become Jake Gyllenhaal's prized possession? It looks so good on him, with his slight tan and tired eyes. He's so proud of it. A nice little present he bought for himself. 
I'm disappointed that there has yet to be footage of him putting it in his mouth, like Timothée Chalamet in Call Me By Your Name or Meryl Streep in Big Little Lies or the guy I bought weed from in high school one time whose sister also got in the car and requested we play "Marvin's Room" on the aux. 
What is this chain doing to me? Why won't the image of him wearing it during yet another press interview (this time in a blue cashmere sweater where the gold really pops) leave my brain? Why did I spend an entire day thinking about Jake Gyllenhaal? The only answer I have been able to come up with is that I am reading The Uninhabitable Earth and have been consumed by such a deep existential dread that I can do nothing but convert it into unrepentant lust. It's much easier keep thoughts of the imminent Water Wars at bay when 90% of your mental energy is being used to imagine the way the chain falls back down on Jake Gyllenhaal's chest when he takes off his blue sweater at the end of a long day.